About
Extra Large / Oversized Paintings
Bring style and sophistication to your space, create a visual interest and impress your guests by adding oversized canvas art to your wall.
My extra large paintings are vibrant and bursting with texture. They are single canvases larger than 48" and up to 72" (inches).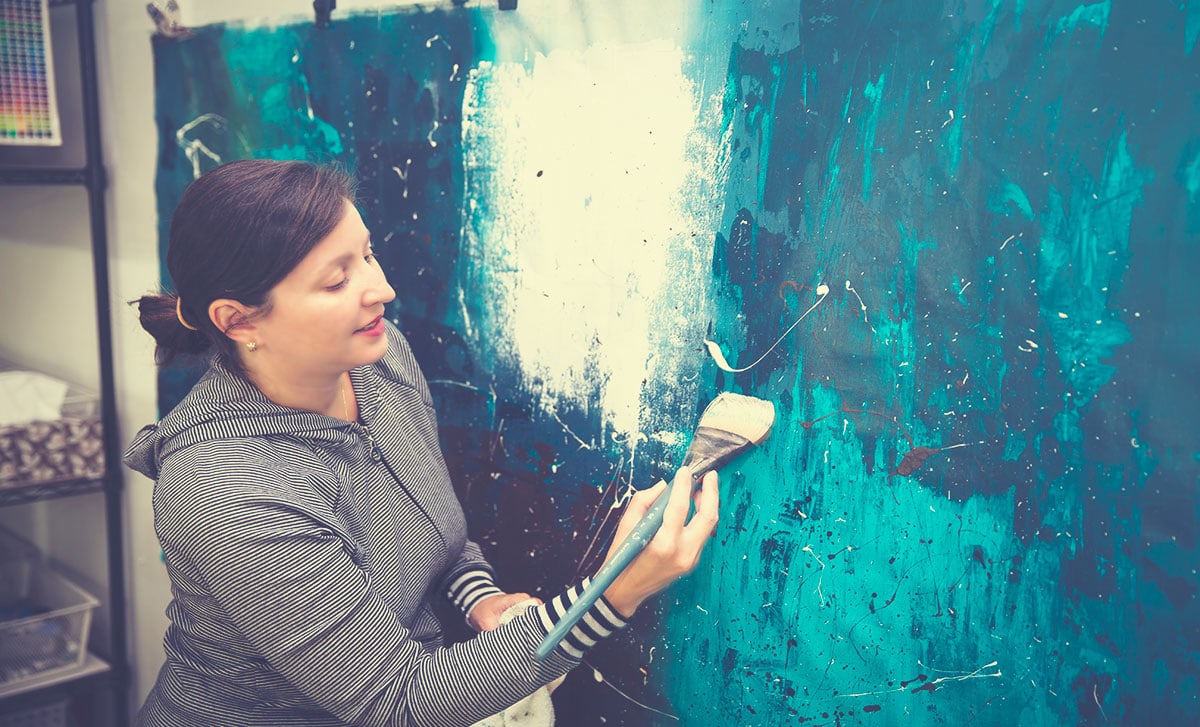 100% handmade original paintings on canvas.
Original artist's signature on front and back of the painting.
Unstretched. Unframed.
UV protective glossy varnish.
Certificate of Authenticity included, hand-signed and embossed.
These huge canvas paintings are only shipped unstretched/rolled in a sturdy tube. I have come to realize that shipping my extra large paintings rolled is the best way for the following reasons:
It saves lots of money on shipping. The cost of packaging and shipping oversized paintings "stretched" can be between $350 up to $1000.
It keeps your beautiful artwork safe from damage during transit. The bigger and heavier the box, the higher the risk of accidental drops or damage.
Most local frame shops and art galleries can stretch it and often provide a wide variety of options. You can even add a decorative frame if you want, for example a floater frame.
In order to hang these extra large paintings, they need to be stretched or framed. Most local galleries, frame shops and craft stores offer "canvas stretching" services, which means, wrapping the canvas over wooden/stretcher bars. Once stretched, your painting will be ready to hang on the wall.
NOTE: Allow a minimal variation in the size of the canvas. Edges may show marks of clips, pins and tape. These marks won't be visible after stretching/framing because they will be on the back of the canvas.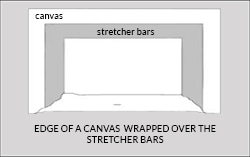 For more general information about Stretching Canvas Paintings, you can check these sites:
Note: cgmodernart.com is not associated with these websites, and we have no control over their content.
How Displaying Large Paintings Creates a Bold Statement
Large paintings are a change maker for any room. They create a captivating anchor. They make a statement. They have a gravitational pull on anyone nearby.
And yet, one of the most common mistakes buyers make when buying fine art paintings is going too small. Even when they take measurements and know that they could go big, they usually end up with artwork that could work better in a larger format.
While there are no hard and fast rules in art, bigger is usually better.
Picking out these pieces can also be a lot of fun. Rather than trying to find something that fits in with everything else, you get to make a giant gesture. You get to clarify the room, simplify your approach. And you get this enormous splash of color that makes a room come alive.
The power in large paintings makes them coveted objects to art collectors looking to create a wow factor. But all this talk about their charisma and presence might make you think they aren't versatile. Nothing could be further from the truth.
Enormous paintings can fit in many spaces — as long as there is room on the wall. With the right painting, you can make the size work wonders for any space.
And with the variety available in my large format, abstract paintings, you can find vibrant, lush hues as well as cool tones in serene brush patterns.
The only question left is: how do you choose the perfect large painting for your space?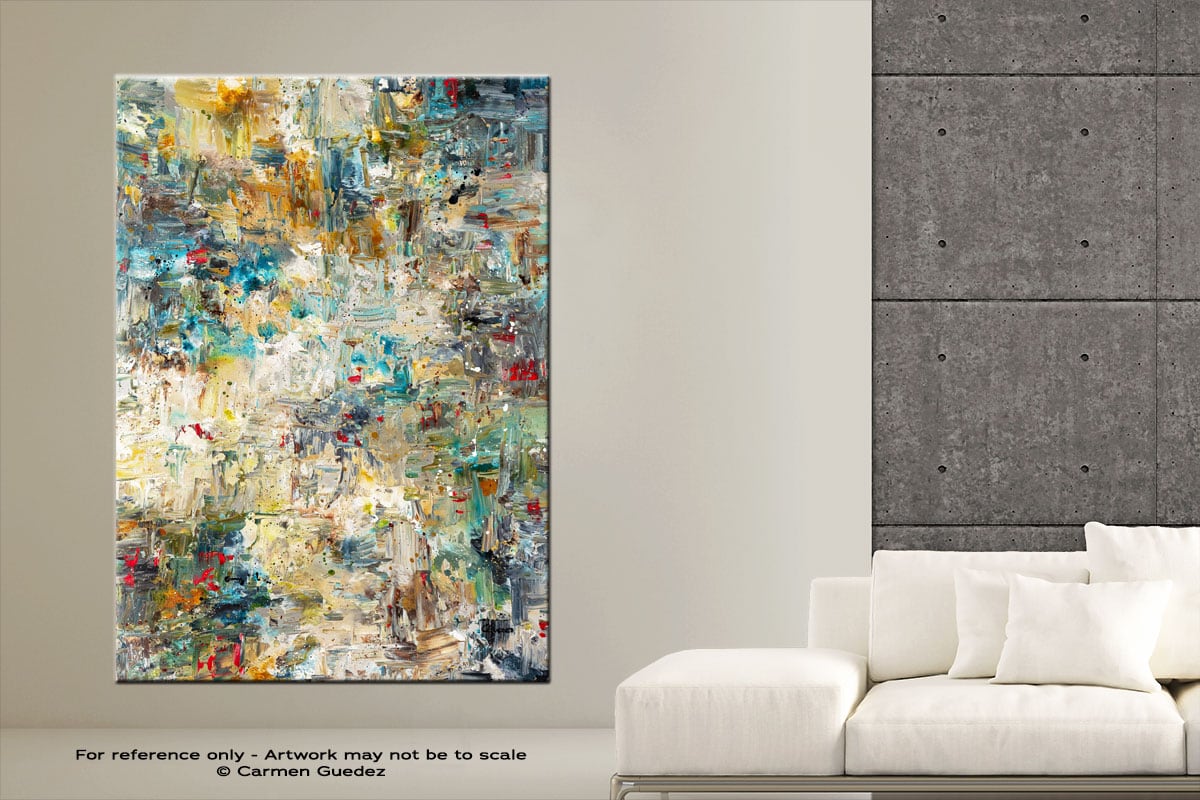 Displaying a Large Wall Art Simplifies and Creates a Bold Statement
Hanging a statement-making wall art piece above your sofa is the easiest way to fill out empty vertical space in your living room. It's a great way to add a central focus to your space, and the larger scale your art the more color, texture, and visual appeal it will bring to your room. — Modsy
Oversized Paintings for Commercial Spaces
If you run a commercial space, you likely already know the power of art. Having the right paintings on the wall can create an atmosphere of creativity and collaboration. You can communicate your ideals and mission to visitors and employees.
One of the biggest mistakes commercial spaces can make is forgetting about visual beauty. Studies have repeatedly shown that art can make a difference in a professional setting by boosting productivity and reducing stress, and yet many offices still have bare walls. And when they do have something on their walls, it usually leaves something to be desired.
It's time to ditch the motivational posters and make a real statement with your walls. With oversized paintings, you give your office or business a visual anchor — something that people will remember.
Because these works are so impressive, you set your business as a leader in your field. You give your employees a sense of pride and a source of inspiration. You also give visitors and potential partners a lasting sense of your company.
If you are looking to make an impression and set the tone for your enterprise, large format wall art is the best choice for your office décor.
Extra Large Paintings for Small Rooms
While we often think of large paintings as a natural fit with equally large rooms, they have an interesting effect in small rooms as well.
Small rooms — like your den, home office, or guest bedroom — are also well served by an oversized work. As with any space, you need to think about positioning and colors, and small rooms come with their own special concerns.
A major concern with small rooms is how quickly they can become cramped. By eating up wall space with a lot of little pieces, a small room can quickly feel like a storage space. A single, large wide painting simplifies the look and focuses attention.
SIDENOTE: It's also important to remember that brighter colors and tints — hues with white added to them — will make a room feel larger than it is.
That can be perfect for small rooms. If your guest bedroom is a bit spare and none-too-large, an extra large canvas painting with bright and light colors can make all the difference. The lightness can make an area feel more open and welcoming to visitors.
On the other hand, dark and warm colors can emphasize coziness. Reds, oranges, and browns are great for this. By leaning into the coziness, a large painting does something else entirely. Rather than opening up the space, it has a change to really define it as a secluded place.
X-Large Original Canvas Art for Big Rooms
But the right oversize artwork can also fit in perfectly with a larger room. This has to do with matching the scale while creating spaces within a space.
One of the problems many businesses and homeowners have with large rooms is the feeling of emptiness. Of course we want open space, but it can become difficult to decorate. Without the right balance, large rooms can even feel uncomfortable after a while.
Large original paintings hold their weight in a large room. They balance out wall space and "fit in" like nothing else can.
And with the right artwork, you can begin to break up large spaces into opportunities for more human-scale experiences. As a visual anchor, a large painting can suggest a space within the room. This allows people to naturally gather, find themselves and have a moment.
These features make these works sought after by interior designers tasked with a big room.
Buying Oversized Artwork for Sale
If you are looking to make a bold statement or declutter your wall with one large piece, you're looking for oversized artwork.
The large format paintings available on my site are both dramatic and versatile. Each piece is a real painting on oversized canvas (which can be stretched and framed at frame shops, galleries and craft stores). These stunning pieces can transform the place you work, play or relax.
The wide range of styles and palettes in my collection give you an option for any wall. If you already have large artwork, you know how special this format is. If you haven't experimented with them, it's time to discover what makes large paintings beloved works of art.
Painting must be experienced in a large format. The grand presence and striking look make a big statement. At the same time, these works simplify and clarify a space. They bring everything together, defining an entire room all at once. Buy your own original extra large canvas painting today or commission one that is custom-made for your space, and begin enjoying this bold, powerful side of art.