About
EXTRA LARGE / OVERSIZED PAINTINGS
Bring style and sophistication to your space, create a visual interest and impress your guests adding an oversized canvas art to your wall.
My new Extra Large Paintings are vibrant and with texture; and they are single canvases (not diptychs and triptychs) larger than 48" and up to 72" (inches)
These huge canvas paintings can only be shipped (inside and outside the US) rolled in a sturdy tube (unstretched).
100% hand-made-original paintings on canvas.
Original Signature on front and back of the painting.
Unstretched. Unframed.
UV protective glossy varnish.
Certificate of Authenticity, hand-signed and embossed with the original CGUEDEZ logo.
In order to hang these extra large paintings, they need to be stretched or framed. Most local galleries, frame shops or craft stores can do that for you. The final image size will be smaller after stretching/framing. For example: if the canvas measures 70″ x 40″ inches, the final image size will be approximately 65″ x 35″, considering a 2.5″ border to wrap over the edges of the stretcher bars: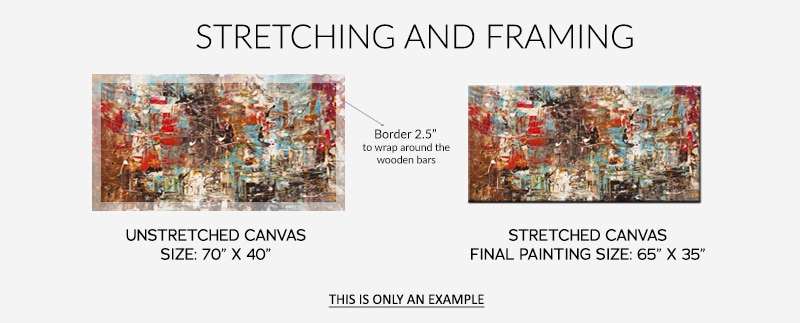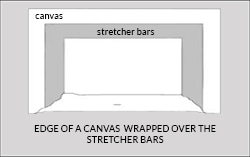 NOTE: Allow a minimal variation in the size of the canvas. Edges may show marks of clips, pins and tape from when I used to hold the canvas for painting. These marks won't be visible after stretching/framing because they will wrap over the stretcher bars (as shown in the example above).
For more general information about Stretching Canvas Paintings, you can visit these links (cgmodernart.com is not associated with these websites, and we have no control over their content):
DISPLAYING A LARGE ARTWORK SIMPLIFIES AND CREATES A BOLD STATEMENT