Each original abstract painting is 100% handmade created, carefully packed and delivered by Carmen Guedez.
High quality premium canvas.
Certificate of Authenticity included ~ hand-signed and embossed.
"Stretched" Paintings are mounted on 1.5″ wooden bars for a contemporary look and they are ready-to-hang. All hardware is included. Sides of the canvas are painted.
"Unstretched" Paintings do not contain any support on their back, therefore, they will require to be mounted on stretcher bars to be hung. Most local galleries or frame shops offer "stretching" services.
Artist signature on front and back of the canvas for most paintings. Some paintings may not have a signature on the front of the canvas in order to fit any orientation (vertically and horizontally). In this case, I can add the signature also on front of the canvas upon request.
Payment Options: Visa, MasterCard, Discover or American Express card, debit card or bank account are accepted. Secure checkout through PayPal.
Promotions : Only one coupon code may be used per transaction. Paintings on sale are not eligible for additional discounts.
Commissions: If you desire a painting in a different size or colors, I can create a similar based on your preferences. To request a custom painting, click on Commissions.
Fine Art Care Guide: For information about how to display, preserve, handle and hang paintings, visit the Fine Art Care Guide.
Media: Mostly acrylics (professional grade) are used in all paintings. Some amount of pastels, oil paints, molding pastes, gels, mineral spirit and turpentine might be found on all paintings.
Images: Paintings are photographed with a high resolution digital camera to ensure accuracy. Different monitors/devices may display the colors of the photos slightly differently. Images are not to scale. Room views are for reference only.
Returns and Refunds: For information about returns, refunds and damaged packages, visit Returns and Refunds.
Benefits of Buying Original Art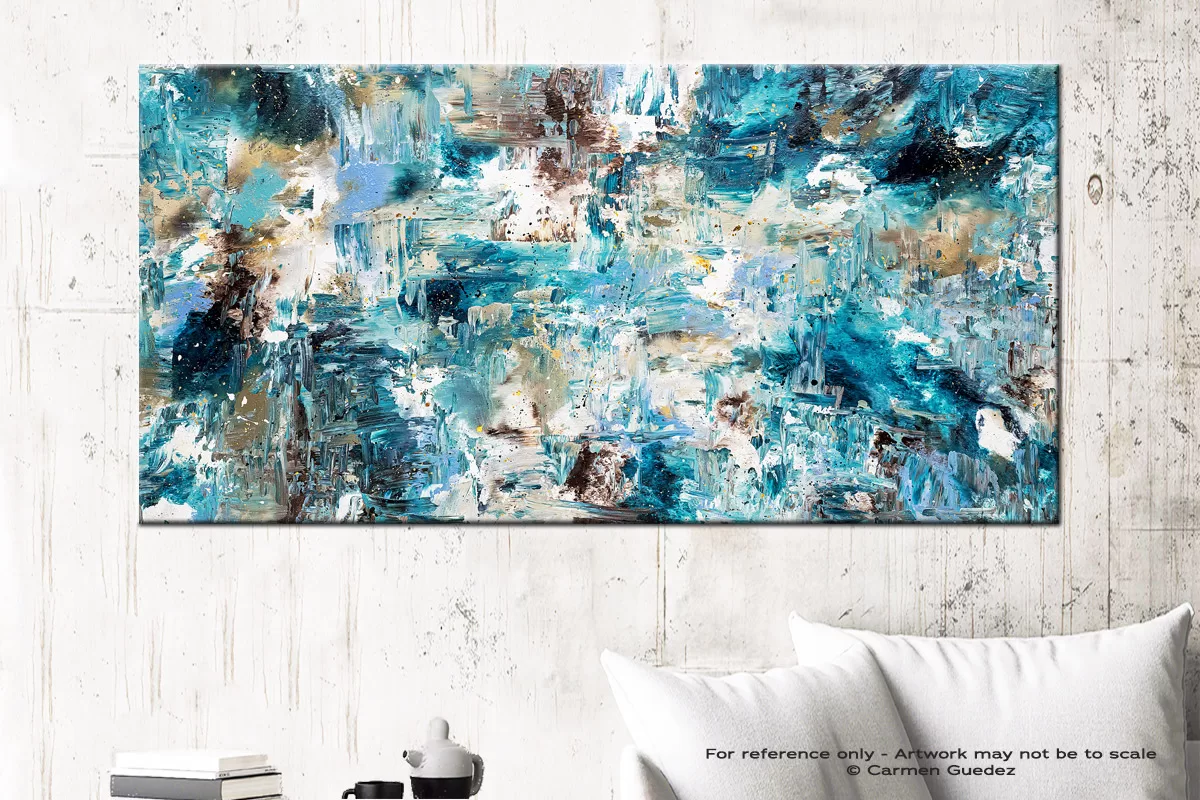 Buying abstract original art is one of the most exciting and fruitful ways for a collector to decorate their home or office.
When we say original art, we aren't talking prints. We aren't talking copies. We are talking hand painted canvases created in the artist's studio. These are truly one-of-a-kind pieces that bring the energy and beauty of art into any space.
With online art buying becoming the main way people find abstract art for sale, prints are taking up more of the market. It's easy to see why. An artist can sell many prints of the same work, and they can only sell one of the original.
But that's exactly what becomes so attractive about original art. You aren't buying a copy. You are buying something that no one else has.
And the benefits don't stop there. Let's look at some of the many reasons collectors love buying original art.
Paintings are tactile. A print's surface can never match the luscious textural variations of a painting. Whether done on canvas, wood or mottled watercolor paper, original paintings have a touchable quality that sets them apart.
— Houzz
When people buy art prints, they end up needing to spend a lot of money for their product to approach the quality of an original painting. They need to do research into the materials available and find out what mixture of process and paper will be best for the painting they want a reproduction of.
Some reproductions, especially canvas prints, can end up costing even more than an original work because of how many businesses are involved in creating and selling the product. At every step, these businesses take a percentage. The manufacturer and printer, the art dealer, broker or home décor wholesaler, and finally the retailer. By the end of it — the buyer may end up paying a price close or above the original's.
Despite all of that effort, there is no magic combination that will ever match the beauty and presence of an original. No matter how much you spend or how trendy the materials are, a print will never hold a candle to the painting.
The dimensionality of paint, the brush strokes, the richness of the color, the simple fact that the painting is exactly the artist's work — these make original paintings so much more valuable and beautiful than even the best print.
This becomes even more obvious when comparing an original work of art with an anonymous reproduction picked up at a major retailer. These characterless pieces are more akin to a mass produced throw pillow than a painting.
There just isn't any comparison. Original artwork is what all of these prints and reproductions are trying, and never quite able, to be.
Let's face it: most art collectors want the pieces they buy to hold on to their value. Nothing does that as well as original work.
While limited edition prints can retain value, it's very little compared to the real thing. And if you are buying any other kind of reproduction, you likely won't be able to realize any value whatsoever.
But when you buy original abstract art for sale, especially from the artist, you can have a guarantee of provenance and security in the value of the work. You'll know that you own something that is the only one of its kind — a disappearing rarity in today's world.
The moment you bring it home and get it up on the wall, it will become clear why these works are so valuable in the first place.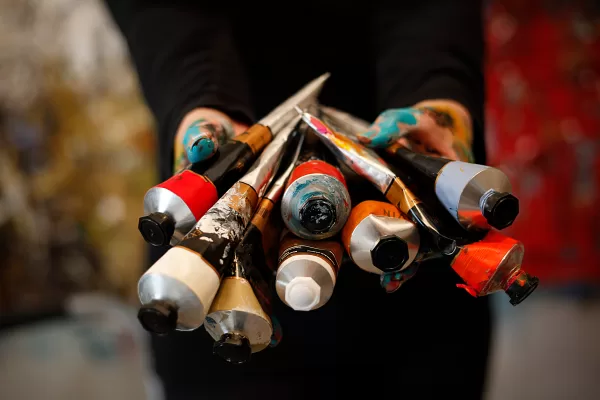 Original art can become the piece that makes a room come together. With the right subject and size, a painting can transform the everyday into the extraordinary.
You can really see its power at work when entertaining. Guests are naturally drawn to striking, modern abstract art, or an extra large painting, and people will frequently gather around them to talk.
"I love the color." "Where did you get this?" "I wonder who painted this."
Paintings have this effect on people.
You've probably felt this yourself. You walk into a room you've never been in before, and your eyes go straight to the painting on the wall.
When you purchase original paintings, you can bring that effect into your home. You can transform any room in your house with the right painting.
Bring Inspiration into Your Life
GET WHAT YOU LOVE All sorts of people will give all sorts of advice about what to buy and when and where to buy it. But the bottom line is, you have to live with the painting or sculpture or installation, so you should like what it looks like, how it feels to have it in your home. Unless you're viewing art as a pure financial investment, trust your aesthetic response. — The New York Times
Sharing your space with art does more than make a room look better. It actually inspires you, gives your mind a much needed boost, and helps you feel more creative.
There's nothing like bare walls to drain your energy reserves and make you feel flat and uninspired. Art breaks things up, introduces new angles and perspectives. It gets you in touch with your intuition. And because art can be so stimulating, it can get you to wake up and be present.
An original painting can also keep you in touch with your love of art, and this keeps you perceptive and open.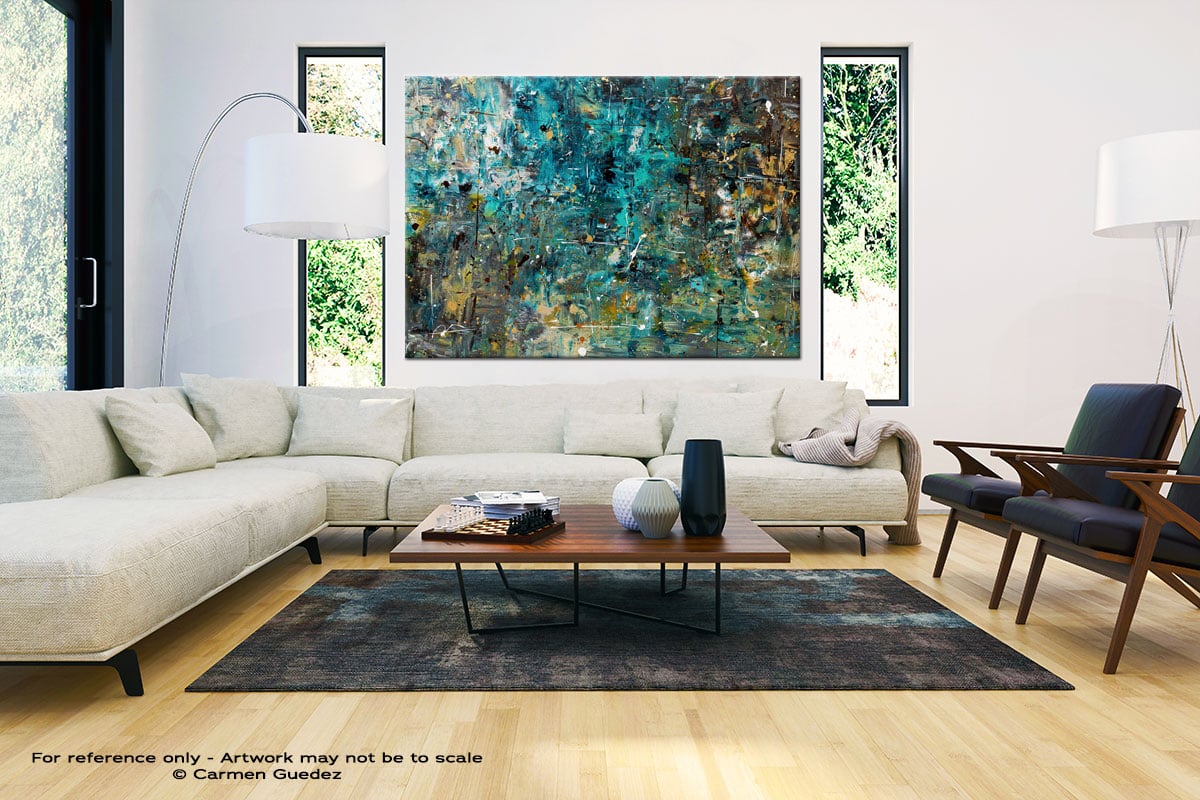 For the owner, an original painting tends to become a point of pride.
It's not hard to decorate your house with reproductions of art. You can go to a store, find a few posters of the classics and maybe some knockoffs, and you hang them on your wall. But these items will always be little more than colorful rectangles.
Original paintings are the real thing. And as all their qualities come together, you'll start to find it a point of pride that you have actual work by a real artist in your home and office.
Know You Gave Back to the Arts
Art lovers want artists to continue making work. And for almost all art lovers, they'd like to support artists in some way.
Buying original art is the single best way to do that, especially if you can purchase it directly from the artist.
It's a great feeling to know that you are supporting the arts when you buy a painting that you will absolutely cherish and enjoy for decades to come. It's a true win-win.
Find Great Original Abstract Art Today
All of the reasons above only scratch the surface of the joys to be found in collecting original paintings.
Whether you already collect original art or are curious and interested in starting, you've come to the right place.
All of the art on my website is a genuine, one-of-a-kind piece painted in my studio. Discover the power and pleasure of collecting original art by ordering your new abstract painting today.